Discover Crete
Enjoy the sun and the sea away from crowded beaches.
Rent a boat or charter a cruise and experience free diving to explore shipwrecks around the coast of Crete, visit monuments and archeological sites located next to the sea. Enjoy the breathtaking scenery of the Cretan coastline, from a unique perspective.
Our Team
Sea & Sun's team has excellent knowledge of the surrounding area and weather conditions. All our team members are certified emergency first responders with lengthy experience in marine environments.
Our Boats
All of our vessels are fitted with Yamaha outboard motors. None of our boats or their motors are older than 4 years old.
Dolfin 710
300

hp

engine - 2020 model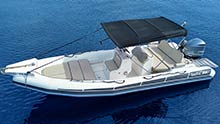 Up to 8 people.
Used predominantly for cruises with our own skipper.
Poseidon 640
200

hp engine

- 2019 model
Up to 8 people (6 in comfort).
Yamaha Fuel Management Gauge.
Cabin with bed, WC, mini-fridge and sink.
Requires EU-issued license.
Love The Sea
No toxic anti-fouling hull coatings used!
We love the sea. Our team has decades of experience in marine-environment activities and protecting the sea is always on our mind. That's why none of our vessels' hulls are coated with any sort of toxic antifouling paint.
Bareboat Rental Prices
All prices below are in euros and include VAT.
Fuel is not included in the price unless otherwise noted.
Requirements


EU-issued license **


€ 500 refundable deposit
Previous experience
with similar vessel
per day
€ 350 +fuel
* per half-day

€ 200 +fuel
Requirements


Previous experience


No license required
per day

€ 230 +fuel
* per half-day
€ 120 +fuel
* Full day rental duration is approximately 8-10 hours and half day about 5 hours.
** EU-issued license: according to Greek maritime law the license must be translated to Greek by an authoritative translator. If desired, Sea Sun Boats can arrange for this for an additional cost of 40 euros - the process takes from 1 to 4 working days.
Important: Please specify if you have any previous experience with boats or related license and the number and ages of persons.
Note: Discounts are available when renting a boat for longer durations.
Battery chargers: All boats have USB ports for charging your cellphones and portable devices, please bring with you the necessary cables.
Care-free Navigation
All our boats are equipped with the BoatAngel navigation, safety and collision prevention system.
Cruises in Western Crete
Below you can find a selection of our most popular itineraries for private cruises near Chania.
If you wish to spend a few hours or a whole day with us please let us know your preferred activities (boating, exploring, etc) and we can suggest the best possible itinerary based on weather conditions, which can change fast during the day. We will guide you to areas that you can relax, enjoy the sun and admire the amazing beauty of the Cretan coastline away from crowded beaches.
Cruises start from Chania harbour but upon request the ports of Kolymbari, Kissamos or Souda can be used instead.
Prices: 3 hours for € 250, 5 hours for € 400 and 8-10 hours for € 600.
Half-day cruises last 5 hours and all day about 8 to 10 hours.
For cruises lasting under 3 hours can be made by arrangement.

All prices mentioned are per boat using a Dolfin 710 or Poseidon 640 and do not include fuel.
An exact fuel cost estimate will be provided a day or two before embarkation as weather conditions have to be evaluated as well.
Fuel estimates are calculated using data from Yamaha Fuel Management systems installed on our boats.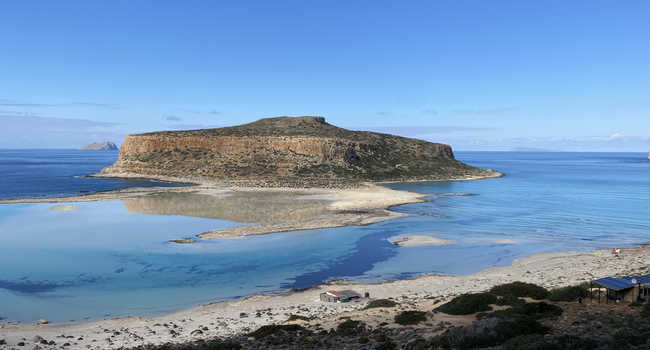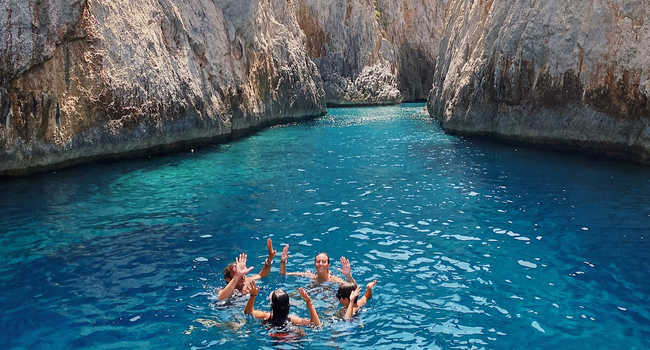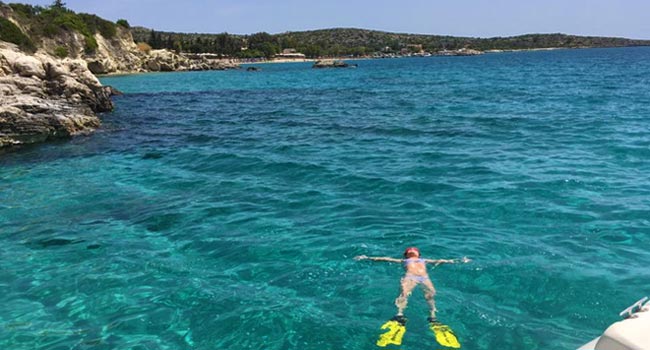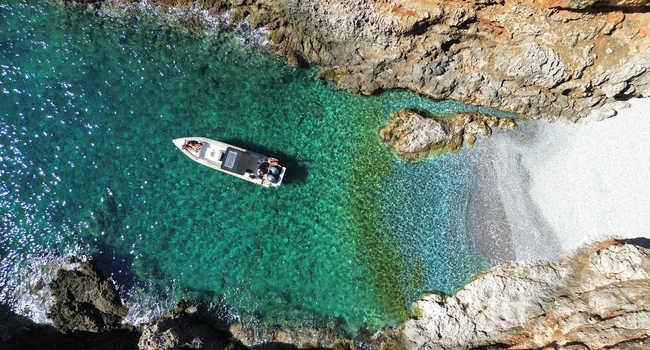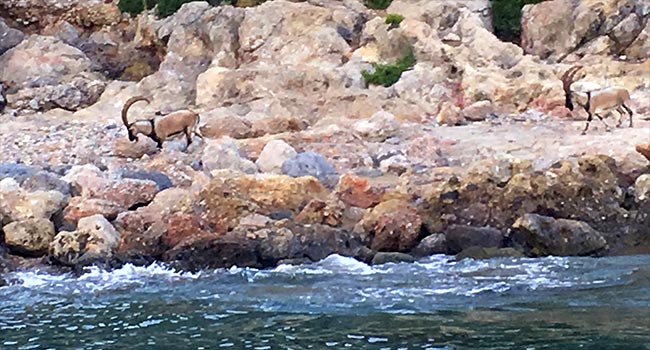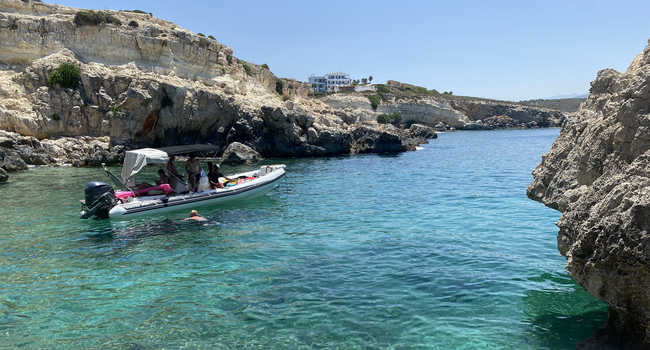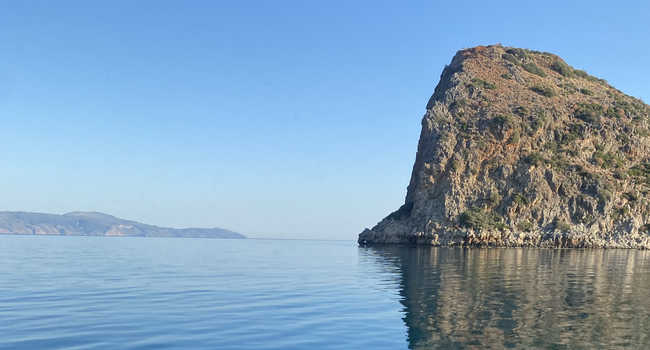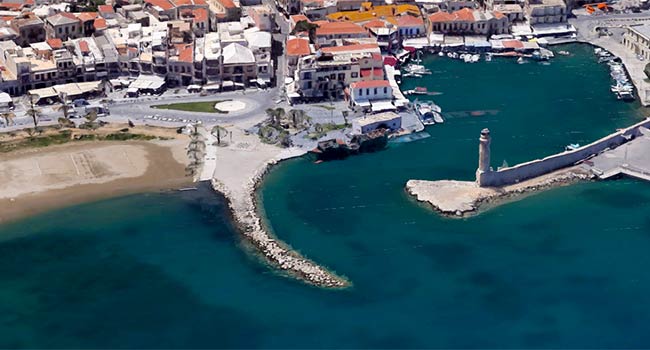 Included
Skipper, drinking water and soft drinks, swimming accessories.
Meals can be provided on request, ranging from sandwiches to traditional snacks (prices from €2 to €10 per person).
The Poseidon 510 is also available for short-range cruises at a lower price.
Terms & Conditions
Insurance, safety & liabilities
All vessels are equiped with the legally required safety equipment and are fitted with canopies.
The boat mentioned in the chartering certificate is covered by insurance against civil liability according to Greek Law 2743/99. The insurance does not cover accidents incurred by the boat's passengers or loss of personal items.
In case the damage incurred is higher than the insurance coverage and the person responsible for the damage is the charterer or the captain of the boat, then the charterer or captain will be liable for the exceeding cost with his personal belongings.
It is illegal to approach organized public beaches at a distance closer than 500 meters; maps are provided during the mandatory briefing with off-limit boundaries.
It is illegal for the vessel's operator to consume alcohol or other intoxicants, the hirer is liable for any fines incurred by such activities.
EU-issued license requirements for bareboat rental
According to Greek maritime law the license must be translated to Greek by an authoritative translator. If desired, Sea Sun Boats can arrange for this for an additional cost of 40 euros - the process takes from 1 to 4 working days.
Orientation
Orientation for proper operation of the vessel and information on recommended itineraries are provided during the mandatory 45 minute briefing (please be on time) which can be conducted in English or French. At least one fully-charged smartphone is required for the navigation app provided.
Note: We reserve the right to withhold rental of a vessel if adequate skill is not displayed during orientation.
Bookings
As per regulations, a valid passport or ID card is required to hire a vessel - driver's license or credit card is not accepted as a form of identification.
All bookings can be done either via phone, internet or in person. Confirmation is sent a day before rental after consulting local weather reports.
When making a booking please specify the number and ages of persons and if you have any previous experience with boats.
It would be preferable to meet in person a day before the embarkation date for briefined and orientation.
Please confirm your booking 3 days in advance.
For bare-boat rentals of boats that do not require a license only full day bookings can be made in advance, bookings for half-day rental can only be made the same day or the day before disembarking depending on availability.
Note: We reserve the right to cancel a booking even up to the last minute if weather conditions are not safe. Weather conditions are usually confirmed one day before the trip.
Contact
+30 6934 652 448 (WhatsApp)
+30 6932 459 125 (Parlant français)